10 Best Setting Sprays For Skin in India 2021
We have about a hundred different products for hair and a hundred more for the skin. When you apply your makeup, it only makes sense that you use just one more product to lock your makeup, preventing it from creasing, smudging, or fading away. A setting spray is not just easy to use, it is also super effective. Since all available setting sprays are not equal, we have here the 10 best setting sprays for the skin. Whatever the season or occasion, these sprays will help you welcome it with open arms.
10 Best Setting Sprays For Skin in India 2020
This spray is a skin-soothing dermatologically tested formular that hydrates the skin, giving it an instant glow. It is an pick-me-up which adds life to dull skin and makes it look toned and hydrated. It is paraben-free and a single spray sets the makeup so that it lasts for the whole day.

Key Benefits
Paraben free
Microfine and breathable mist
Lasts all day
Dermatologically tested
Check the cheapest price on Amazon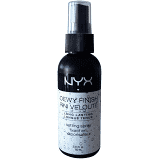 This is another excellent product for oily skin, making it a staple in the makeup box. Last year the NYX Professional makeup Matte Makeup Setting Spray was the top choice for women with oily skin. It sets the makeup, locking it I place, preventing fading out or smudging. In addition, it also mattifies the skin, minimizes the appearance of pores and combats shine.
Key Benefits
Excellent for women with oily skin
Minimizes the appearance of pores
Combats shine
Mattifying
Check the cheapest price on Amazon
3. Maybelline New York Facestudio Lasting Fix Makeup Setting Spray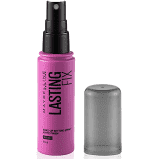 Maybelline is allergy tested and has been found to be good for sensitive skin also. It is a mattifying makeup setting spray that works throughout the day. Also, this product is easily available and very affordable.
Key Benefits
Affordable
Mattifying
Good for sensitive skin
4. Tatcha Luminous Dewy Skin Mist
Tatcha will give you that glow-from-within look without loading up on the highlighter. This product contains humectants and botanical oils. As it contains humectants, it attracts moisture, leaving the skin radiantly dewy. It also prevents caking of makeup and can be sprayed over foundation to give an instant glow.
Key Benefits
Prevents caking
Contains Humectants and botanical oils
Gives an instant glow when sprayed over foundation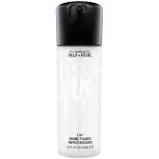 Professional makeup artists swear by this product because of its numerous properties. Apart from setting makeup, it instantly hydrates the skin, and lasts for as long as 12 hours. It contains green tea, chamomile and cucumber. It is also non-acnegenic.
Key Benefits
Non-Acnegenic
Hydrates the skin
Lasts for 12 hours
Check the cheapest price on Amazon
6. e.l.f. Cosmetics Makeup Mist and Set Spray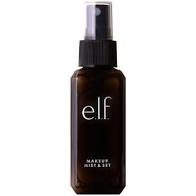 Available in two sizes, this is a good deal. The formula is extremely effective. It contains green tea, aloe, cucumber and is enriched with vitamins A, C and E. Prevent your eyeshadow from creasing by spraying it on your eyeshadow brush before application.
Key Benefits
Available in two sizes
Enriched with Vitamins A, C and E
7. Rimmel Insta Fix & Go Setting Spray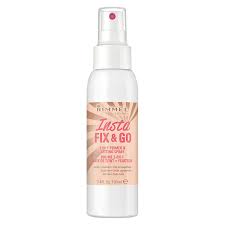 It's a 2-in-1 formula that can be used as a primer beneath the makeup or on top of it as a setting spray. It is quick-drying, with a pleasing fragrance. Rimmel Insta Fix & Go Setting Spray prevents caking up of makeup, without drying the skin. It is an affordable and multifunctional product.
Key Benefits
Pleasing fragrance
Can be used as a primer and setting spray
Hydrates the skin
Affordable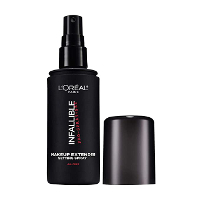 This product is available in sleek black bottle with a superb nozzle that can be sprayed from a distance of 10 cm. It is a non-sticky and is quick drying formula. The makeup stays fresh for nearly 8 hours without caking up. L'Oreal Infallible Makeup Extender Setting Spray is ideal for oil, normal and combination skins.
Ideal for oil, normal and combination skins
Makeup remains fresh for nearly 8 hours
Quick drying formula
Can be sprayed from a distance of 10 cm
Check the cheapest price on Amazon
9. Bobbi Brown Face Mist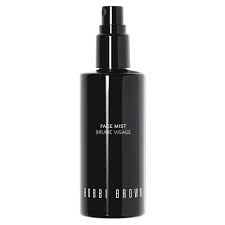 Bobbi Brown is a popular and very successful brand that offers a multifunctional and hydrating face mist. It set up makeup without drying the skin and will keep you looking fresh throughout the day. The formula is quick-drying with a fragrance of geranium and lavender. The only con is that it is slightly expensive.
Key Benefits
Multifunctional and hydrating mist
Does not dry the skin
Geranium and lavender fragrance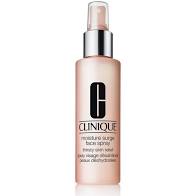 It is an effective face spray that is also gentle. Clinique Moisture Surge Face Spray Thirsty Skin Relief is a multifunctional spray that can be used both as a primer and a spray. It hydrates the skin, making it dewy soft and supple with an inner glow. It is especially good for sensitive skin.
Key Benefits
Fragrance free
Multifunctional
Hydrates the skin
Good for sensitive skin
Check the cheapest price on Amazon
How To Choose the Best Setting Spray For Your Skin
Now that you know about the best setting sprays, you need to know how to choose the right one for your skin.
Skin Type – The first thing to know is your skin type and then you can choose the right spray. If your skin is dry, avoid a spray with alcohol and instead go for one that hydrates. For oily skin, a mattifying spray will work best. If you have combination skin, you need to experiment with different sprays meant for dry and oily skin. Mature skin needs a hydrating spray.
Weather- After your skin, you need to consider the weather as it plays a major role. Hot weather spells melting makeup and hence, you need a cooling and sweat-resistant spray. During winters, choose a hydrating spray as the cold weather dries out the skin.
Finish – This depends on the kind of look you want – do you want a dewy effect or a matte look!
Natural Spray – Or you could simply make your own spray for a natural look. Use a mixture of half a cup of rosewater and 1 tablespoon of glycerine to make your own spray.
How To Use a Makeup Spray
Follow the steps given below to use a makeup spray and lock the look for the whole day.
Shake the bottle well before using it.
After applying makeup, hold the bottle at a distance of at least 6 cm and
spray it over the face. Don't forget the neck.
Spray evenly all over the face and neck so that you get full coverage.
Let the spray dry or your makeup will be totally messed up.
Reapply the spray whenever you feel the need during the day.
Conclusion
A makeup setting spray is an essential part of your makeup kit. It prevents the makeup from caking up, becoming powdery, smudging or fading away. It keeps the skin hydrated and gives it a mattifying or dewy look – the kind that you are opting for.
Also Read: