Exfoliating Gloves VS Scrub, Which One to Choose
Exfoliating your skin makes a big difference with time! It is time to know and understand the rules of exfoliation. There are various ways of exfoliation nowadays. But not all are suitable for all skin problems or skin types. So, here we are with a detailed description and usage of exfoliating gloves vs scrub. Most people do not know the differences. So, it gets more difficult for them to choose what is best for them!
What are exfoliating gloves?
Exfoliating gloves are the best option for physical exfoliation. You can easily get these at any popular beauty store. These are available online also! The special texture of exfoliating gloves can be the best friend of your skin. It removes the dead cells too. So, all you need to know is the types of exfoliating gloves available in the market.
1. Sisal bath glove
Natural sisal fibre helps to smoothen skin texture. It is a great option for people who have flaky and dry skin. Use this at least thrice a week to get desired results. Natural sisal fibre is good for skin health too. So, try this if you want excellent results.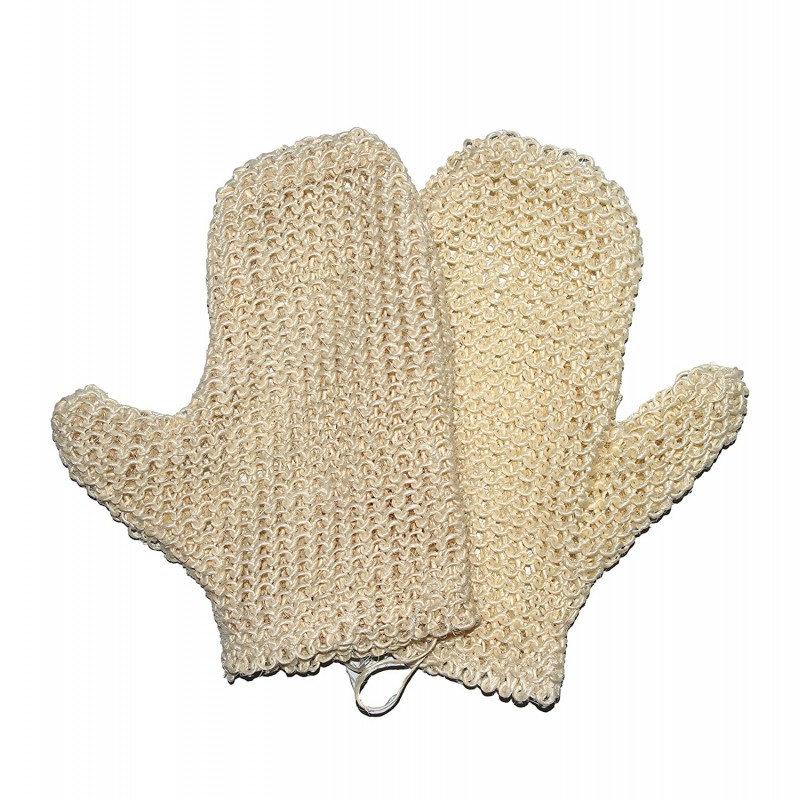 2. Exfoliating mitt gloves
Exfoliating mitt gloves are a good option to get soft and glowing skin. You can enjoy a relaxing bathing session with these gloves. It stimulates the body tissues. And you get good blood circulation too. These gloves are easy to clean and maintain for a longer period. If you need something handy like this, give it a try!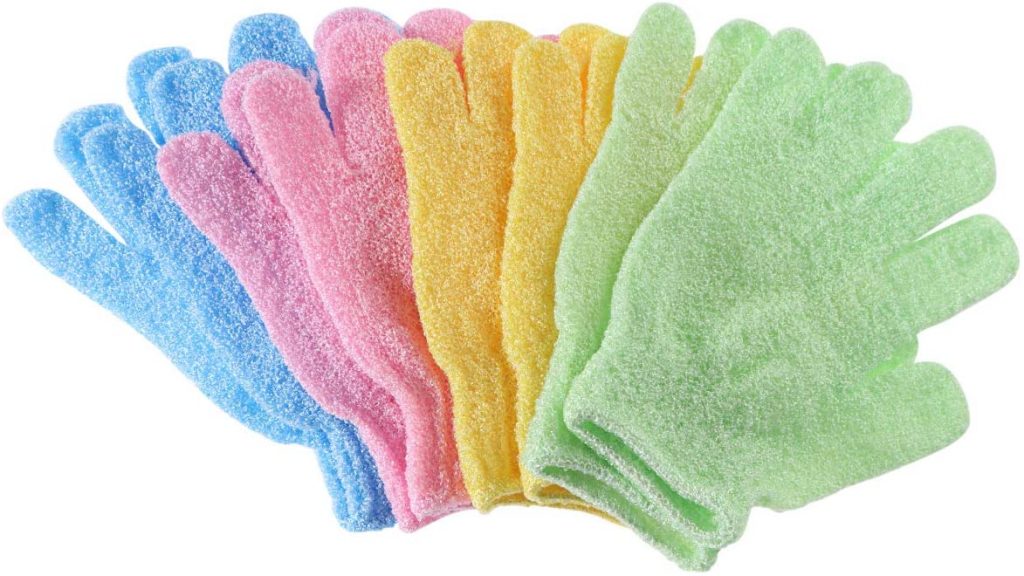 3. Bath mitt: silicon
Bathy mitt with silicon can be a relaxing tool during your shower time. Good quality bath mitt helps to reduce the appearance of cellulite too. It exposes healthy skin with regular use. Bath mitts with natural bristles work well too. Silicon ones tend to last for a longer period.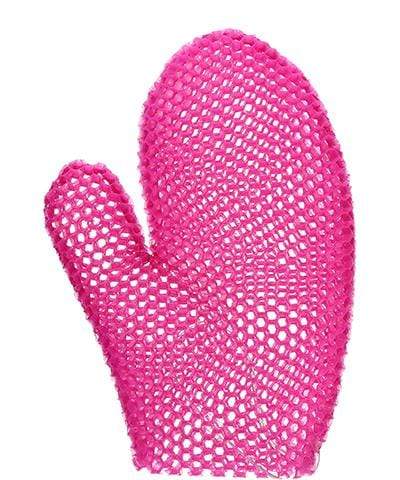 Exfoliating Scrubs
Exfoliating scrubs are great for beginners who do not want a complicated exfoliating session. The old school procedure to remove the dead cells from your skin is always using a good scrub! And it helps to improve the texture of the skin with time! You can easily choose your favorite exfoliating scrubs from the huge range available in the market.

What does the exfoliating scrub do?
The granular texture of the exfoliating scrub is good for smoothening rough skin. It removes dead skin cells easily. You will see visible results with regular use of exfoliating scrub. The good side of scrub exfoliation is it is gentle on the skin. Moreover, it helps to clean up the skin pores.
You can opt for exfoliating scrubs before shaving the skin, applying a mask and oil. It makes skin squeaky clean. So, the skin absorbs everything you put after using a good exfoliating scrub. Scrubbing is a basic way to nourish and care for your skin. Do not overuse exfoliating scrubs. Otherwise, you will end up having skin rashes or breakouts! Use scrubs twice a week to get the best results. Check the ingredients list to get effective results.
The chances of bacterial infection
If your skin is on the sensitive side, then opt for exfoliating scrub. The exfoliating gloves tend to form bacteria and germs into the fabric. It is not safe to use an exfoliating glove for years. And you need to clean and disinfect the gloves after each use. Otherwise, various types of skin problems might occur.
Exfoliating scrubs are safer than exfoliating gloves. There is no chance of getting skin infections due to such problems. Most of the scrubs come in a squeezy bottle. And even if it comes with a tub packaging, you can always take the thing out with a spoon! So, there is almost zero chance to get bacterial infections from the product.
Cheapest option
If you want to cut down the expenditures on skincare products, then go for exfoliating gloves. You can easily continue with a pair of good quality gloves for a year or so! But always maintain the hygiene of the gloves.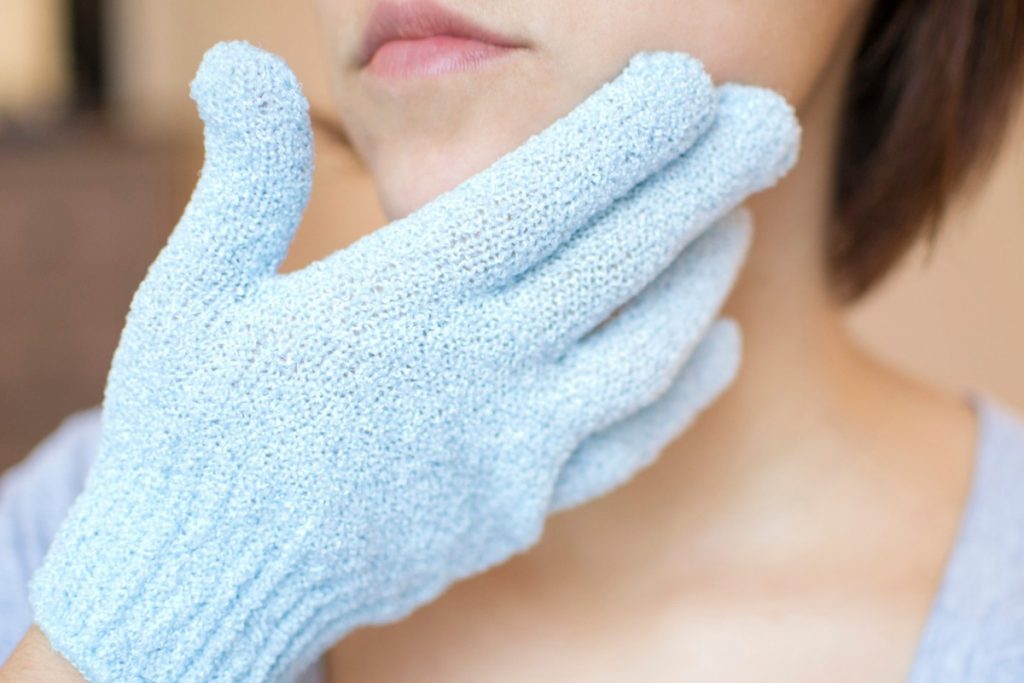 Environment-friendly option
If you want to grab an environment-friendly option, then go for exfoliation gloves. These are good for the environments. Especially the sisal made gloves are a great option. Exfoliating scrubs work best on various skin issues. But the packaging might not be environment-friendly. So, you might have to rethink these facts before buying any exfoliating scrub!
Uses of exfoliating scrub and gloves
The uses of exfoliating scrub are pretty easy. Take the required amount of scrub and massage on wet skin. Then lather it up with a loofah. Then wash off with lukewarm water. Always complete your regime with a body butter or body lotion.
Exfoliating gloves are simple to use. You can use it whenever you need it. Dry brushing can help you to get rid of the damaged skin cells in a jiffy. But if you have sensitive skin, then do not go for that.
Exfoliating gloves are good for skin health. You can massage your skin before taking a bath. Wet your skin to get the best results. Start massaging from your shoulder. Do not massage your face and delicate areas with these gloves. Use gentle soap or body wash to get soft and glowing skin. Use lukewarm water while washing the soap. And complete the skincare routine with a body butter or body lotion. Do not forget to clean and hang the gloves to air dry quickly!
Exfoliating gloves or scrub: which one is travel-friendly
Exfoliating gloves are travel-friendly. These are no-fuss kinds of stuff that you can carry around anywhere. All you need to do is maintain the gloves' hygiene so that you do not get any skin infections. Exfoliating scrubs may not come with travel-friendly packaging. The scrubs, which have gel-like or lotion-like consistency, tend to leak during travelling.
Pros and cons of exfoliating gloves
Pros
1. Exfoliating gloves are cheap. You can reuse these with proper care and maintenance.
2. Exfoliating gloves are great options for travellers.
3. The environment will thank you later for choosing exfoliating gloves over scrubs!
Cons
1. If you do not clean exfoliating gloves, then it can lead to serious skin problems.
Pros and cons of exfoliating scrubs
Pros
1. Exfoliating scrubs are good for a refreshing bathing session.
2. Skin gets clean and free of dead cells with regular use.
3. Helps to improve skin texture with time.
Cons
1. Exfoliating scrubs might not be travel-friendly.
2. The packaging might not be eco-friendly.
3. The scrub is not a cost-effective option.
Final thoughts
Exfoliating scrubs are good for the skin. But if you want to save some penny, then go for exfoliating gloves. Exfoliating gloves are great for travellers. Moreover, you can use one glove for almost a year if maintained properly!
But if you do not care about maintaining and cleaning gloves, then scrubs are more suitable for you. Both of these works well for removing dead skin cells. So, choose your favourite one according to the requirements.
Also Read: