Onion Juice & Oil For Thick Eyebrows
Do you want to look more gorgeous? Then you have to take care of your eyebrows like your skin and hair. Eyebrows play an essential role in our life. Significantly, the women wish to have perfectly designed eyebrows, but unfortunately, every woman doesn't have that fortune. But, here we are giving you some solutions regarding your problem which you could find in your home. The onion will help you to solve your problem. This is a readily available ingredient which you could find in your kitchen, which is full of nutrients and also beneficial for the growth of eyebrows naturally.
3 Ways How You Could Use Onion
1. Onion Oil
This is a highly essential ingredient which plays a vital role in hair growth. You could use this onion oil instead of your chemical-based products. Also, it is profitable for you, as it is readily available in your kitchen. Moreover, you can make such oil in a hassle-free way.
Ingredients:
To prepare such kind of oil you need:
Four tablespoons of coconut oil
One small or medium-size onion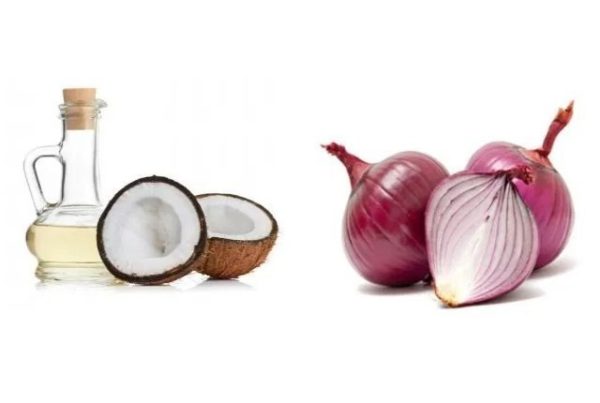 Preparation
Here you can find the easiest way to make this oil. Firstly, peel the onion and cut it into dice and rinse it properly. Then mix the diced onions with four tablespoons of coconut oil. Also, you could use castor oil or olive oil instead of coconut oil. But if you are using coconut oil then make sure that it will be extra virgin coconut oil. Then put the mixture on medium flame and wait until the onion has changed its colour. After a few minutes, turn off the flame and cool it down. Store it in a clean container and put a few drops of oil on your fingertips and massage it on eyebrows for a few minutes. You can leave it overnight. Now, rinse it off the next morning. To get the best result, you have to use this for a month.
Profits
This oil will help in blood circulation on eyebrows which will help in growing eyebrows thicker and stronger.
The coconut oil will help you to strengthen the root of your hair. Also helps in conditioning and moisturizing your hair.
2. Onion juice
It is another essential option you can go for. Raw onion juice is the best option in the growth of eyebrow hair faster. You can use this product peacefully as it doesn't have any side effects.
Ingredients
You need:
One medium-size onion
Peppermint essential oil which is also optional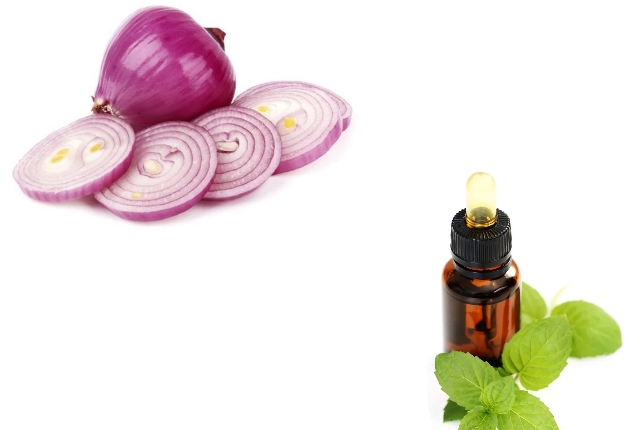 Preparation
This is another way you can choose to solve your problem. The preparation of onion juice is effortless. Peel out the cover and rinse it properly. Then cut it into cubes and grind it into a smooth paste. Now, extract the juice from the paste and add peppermint essential oil. Now, with the help of a cotton ball and put the juice on your eyebrows. Now leave it for overnight. In the morning, rinse the juice with plain water. You can use this method twice in a week to get a good result.
Profits
This juice will reduce hair loss and help the fragile hair to become stronger.
It nourishes the hair follicles, which helps in hair growth.
Peppermint oil will give you good stress relief and help in hair growth.
3. Onion Serum
This is the last option which is very useful and gives a promising result if you want to replace your expensive beauty products and look for some original! Then this will be your best choice. You can mix aloe vera gel with it to get a remarkable result.
Ingredients
You need:
Two tablespoons of aloe vera gel
Lavender essential for a beautiful essence
One tablespoon of onion juice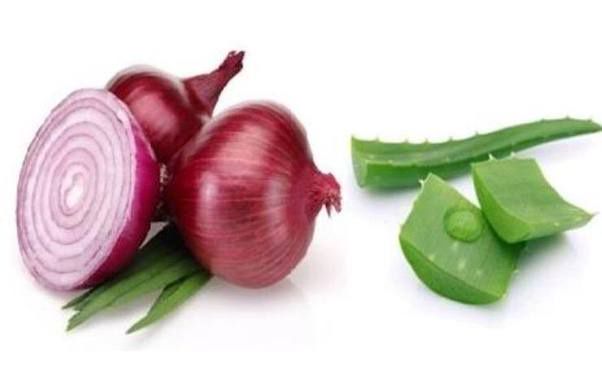 Preparation
To prepare this excellent item, you need just a few minutes in your hand. Firstly make a blend with those above ingredients and apply it on your eyebrows for a few minutes. Mainly this product you have two ways either you could leave it for 30 minutes or if you want the best result then leave it overnight. This serum is not the sticky one. To get the best result you can use this thrice in a week.
Profits
Both the sulfur extracted from onion and aloenin comes from aloe vera helps in hair growth.
This serum keeps your hair hydrated, which prevents them from breaking.
Aloe vera is rich in nutrients which provides the proper nourishment to the hair and helps in the growth of eyebrow hair.
These are some essential handy ways out which you could apply in the home. If you are too busy with your office work or home stuff, then you have the choice to store these items in a cool place, and you can reuse it happily. So, shrug off all your problems by using these handy natural homemade products and get a gorgeous thick eyebrow within a few days because all women deserve a magnificent look with confidence which will define them.
Also Read: Onion Juice for Hair: Benefits, Uses & Side Effects