Onion Juice for Hair: Benefits, Uses & Side Effects
Did you just have a bad trim recently and regret the decision already? We understand. This is a pretty common issue that happens with people. But don't worry. We have your back. This is because we have brought a magic ingredient that will be in the limelight today- Onion Juice! Let's check out more details about this wonder ingredient!
Why is Onion Juice beneficial for your hair?
This ingredient is pretty popular for decades and for the very right reasons! It is one of the best and full proof methods of hair growth. Even if you have trimmed your hair short or have severe hair fall, this will be the best remedy to combat these issues. How? Let's check out a list of benefits of onion juice for your hair.
Hair thinning is a common issue and is pretty significant among youngsters even. Hair thinning leads to hair breakage. The sulphur in the onion is the best rescue ingredient for this. It is great for strengthening your hair follicles and eventually makes them less prone to breakage. Furthermore, the sulphur also nourishes the hair follicles, which helps in the regeneration of the lost hair.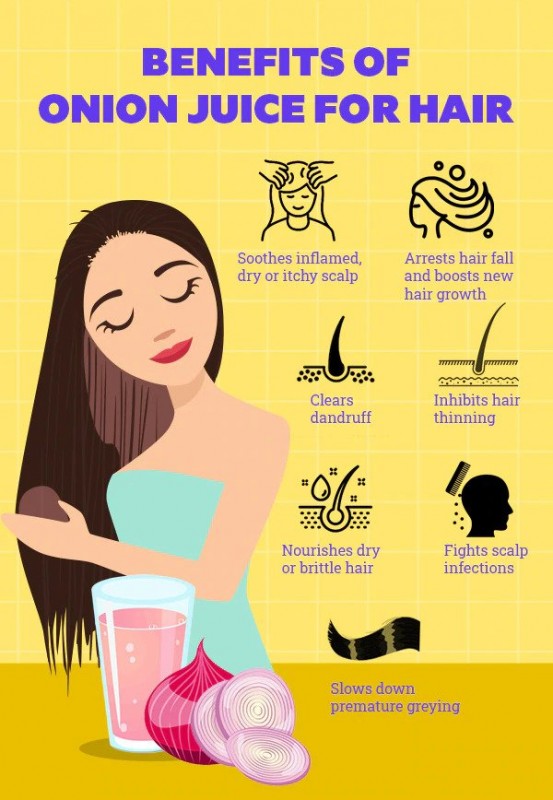 Premature greying of hair is another common issue evident amongst the individuals due to various reasons. Onion is rich in antioxidants that will help you to prevent or even reverse premature greying of hair.
Now when you apply the onion juice to your hair, you will surely give a good massage. This massage is great in increasing blood circulation, which eventually helps in better hair growth.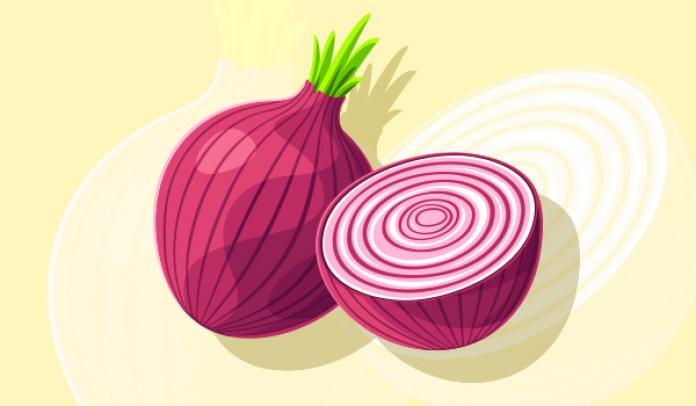 Onion juice's antibacterial properties also help to clear your scalp and any kind of build-up that would lead to scalp infections or dandruff.
With the magic ingredients of onion juice, you will surely get a great shine and volume in your hair because the healthier the scalp and the tresses, the better is your hair's overall health.
How to make onion juice for your hair?
Now when we know how beneficial this wonder ingredient can be for your hair, let's jump on to the how part. You might have even seen commercial products selling shampoos or oils with onion juice as their main ingredient. Thus, it is clearly one of the best options out there for your hair.
The process of making onion juice is simple and easy. Let's check out how you can make the onion juice for your hair.
Take a full-sized onion and peel it.
Chop it into fine pieces
Use the blender or the food processor to mash it and get the pulp of the chopped onions
Strain the pulp via a metal sieve or a thin cloth.
Quick and easy!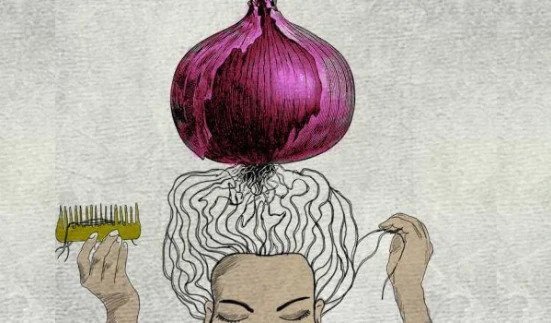 How to use the onion juice for your hair?
Now when we have made this magical potion, we can use it by various methods. Let's check out the most common and easy ones.
1. Basic Onion juice
This remedy is simply the easiest one out of all. This ingredient alone is so potent that it can cause wonders to your hair. Thus, if you are one of the lazy ones, then this is surely your go-to remedy.
Directions:
Take a cotton pad and dip it in the onion juice
Make small partitions in your hair and apply it generously on your entire scalp
Once the entire scalp is completely covered, massage it gently in circular motions
Leave the onion juice for half an hour and rinse it off with a mild shampoo
Use it on every alternate day for the best results.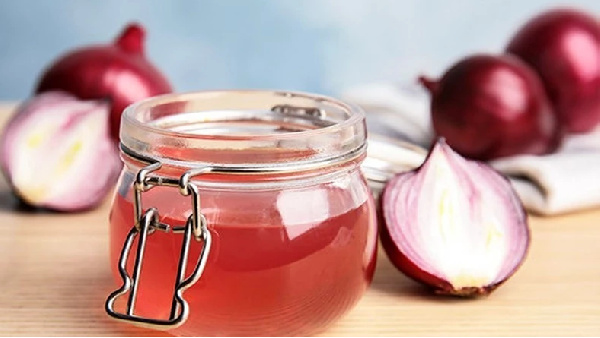 2. Coconut Oil
The benefits of coconut oil are not something unknown to us. It has been the staple ingredient in our houses for various reasons! This magic oil is great for nourishing your hair. It has a great penetrative ability to boost the ability of nourishment of the onion juice. Moreover, coconut oil is great for hair growth.
Directions:
Take four tablespoons of Coconut Oil
Add three tablespoons of onion juice and give them a good mix
Apply a generous amount and spread it evenly. You can either use a plain cotton pad or even use your fingers for a proper application
Give a good massage and let it sit on your scalp for an hour
Rinse it with a mild shampoo
Use this remedy at least twice a week.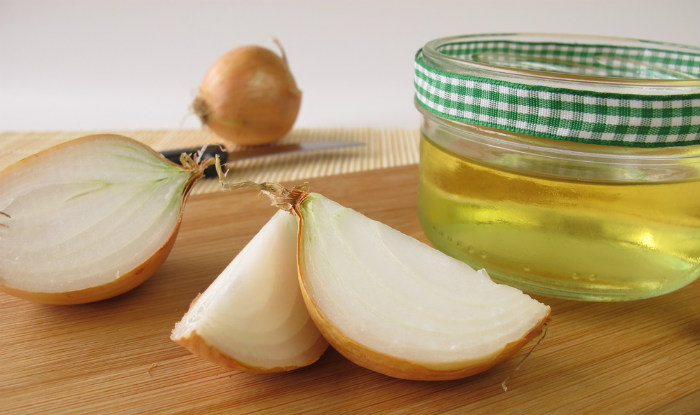 3. Castor Oil
Now here comes another great ingredient that has immense capabilities of boosting hair growth to a significant extent. This oil is magical and is quite popular, especially for its hair growth and hair-strengthening properties. Mixing this with the onion juice will create an outstanding combination that can help you increase your hair volume efficiently!
Directions:
Take two tablespoons of castor oil
Add four tablespoons of onion juice and give them a proper mix
Apply on your scalp and gently give a good massage
Let it sit for an hour and rinse it with a mild shampoo
Use this mixture on your hair at least every two days in a week
You can either use castor oil or the coconut oil method alternatively if you want variations.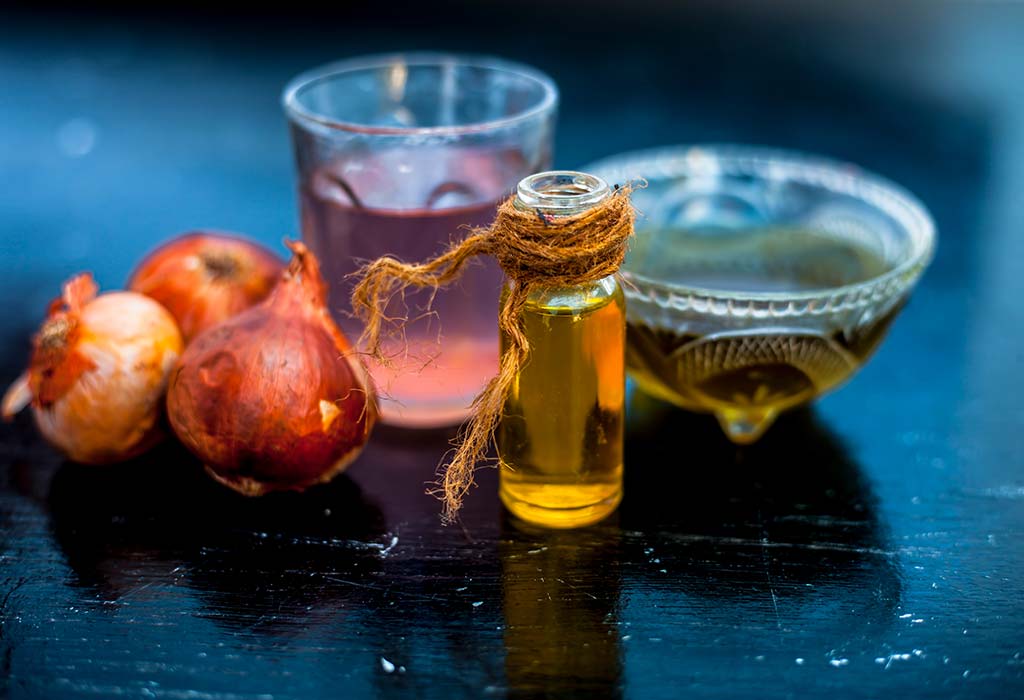 4. Eggs
The high protein content of an egg is immensely great for boosting your hair follicles' overall nourishment and promoting hair growth along with the onion juice. Egg hair masks help your hair become strong.
Directions:
Whisk the onion juice and the egg together to make a frothy consistency
Apply this mixture to your scalp and cover the entire lengths of your hair as well
Wear a full shower cap to avoid the dripping and the mess
Let it sit for an hour and rinse with a mild sulfate-free shampoo
Use this mixture once in a week to get that instant boost of hydration in your hair.
5. Ginger
The anti-inflammatory properties of ginger also help prevent or eliminate any kind of scalp infections or dandruff, just like onion juice. Both of them are a powerful combination to maintain the overall health of your scalp.
Directions:
Grate the ginger and strain the juice out of the pulp exactly as you did for the onion juice
Take three tablespoons of ginger juice
Add three tablespoons of onion juice and give a good mix
Apply this outstanding mixture evenly on your scalp and let it sit for an hour
Rinse it with a mild shampoo
Use this on every alternate day for the best results.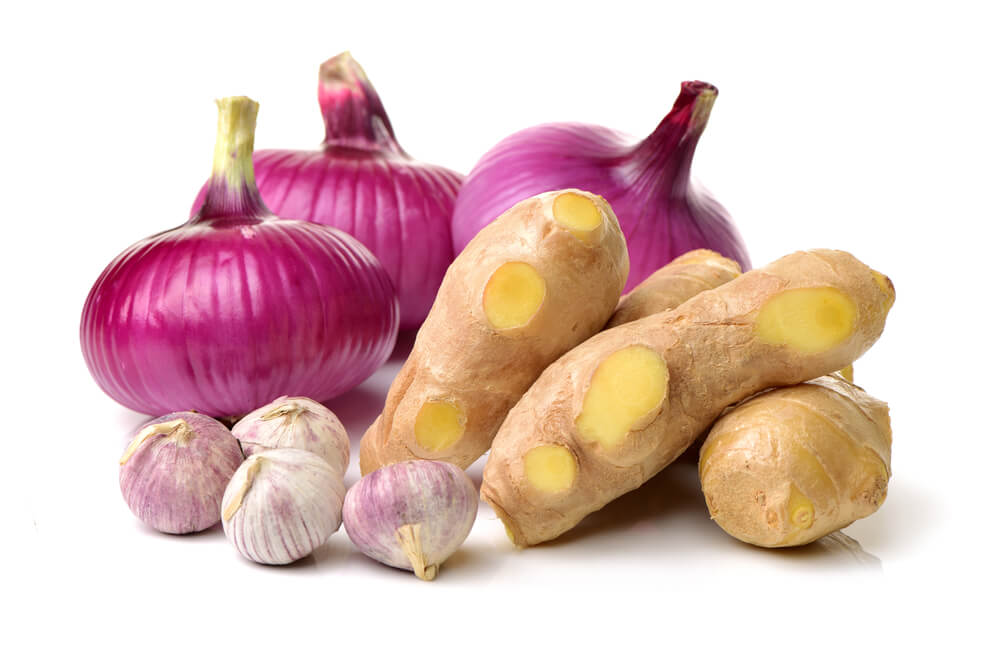 Are there any side effects of onion juice?
Even though onion juice has many benefits for your hair, as mentioned above, there is always a downside to everything. One such possible downside of Onion juice can be the allergic reaction.
Onion juice might cause an allergic reaction to people. This has been seen in very few of them, but if you are prone to such allergies, you should probably skip this ingredient since your scalp might suffer from this. You might get redness or immense itchiness with this juice. And this can even make things worse.
You can test the juice on your hands or apply it in a small portion of your scalp initially and notice if you are allergic to it.
Conclusion
This magic juice is pretty potent and immensely beneficial for your hair. This can be counted as one of those remedies that are bound to work on every type of hair. Even though he smells that great, it is totally worth it to bear the smell for a couple of hours. Use a mild shampoo instead of a chemical one to get rid of the smell afterwards.
This is an excellent choice for your hair care. With regular and consistent usage, you can find a noticeable difference in your hair's overall quality, and your friends and closed people will surely ask this new secret of yours!