What Is A Peplum Dress & How To Wear It?
Did you ask 'what is a peplum dress?'
We heard it and here is the answer!
The peplum dress is a popular kind of dress among women. This type of dress emphasizes the appearance of a woman. Peplum is a frill of cloth that surrounds the hipline of a dress. The special design of the peplum dress makes the look more attractive. But you must know your body type before investing in a peplum dress. Otherwise, you will end up looking like a disaster! Keep reading to know how to wear a peplum dress.
The placement of peplum ruffles
It is important to know the placement of the frills of a peplum dress. It should be below two inches of the hipline. If the peplum fits over the hipline, your waistline will not look defined. And if it sits around the hips, the shape of the dress will not look flattering. So, choose a dress that fits properly.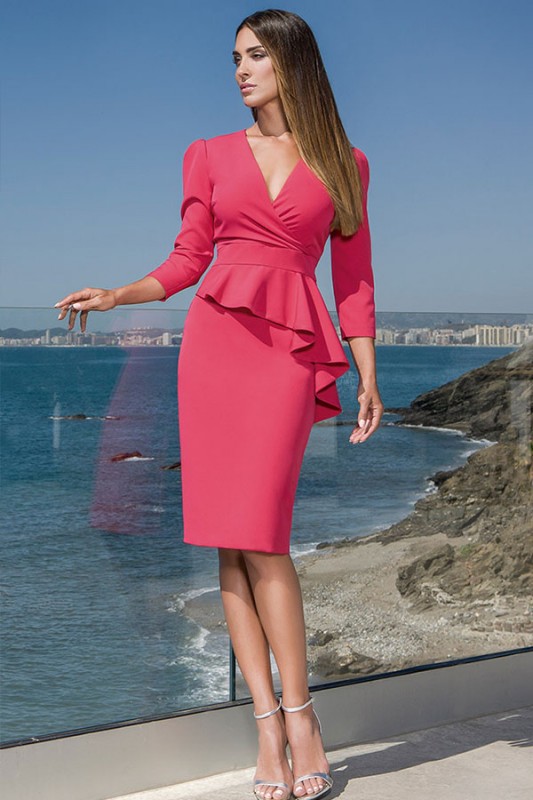 How to Wear a Peplum Dress
The peplum dress is a versatile choice for various occasions. You can wear it to a corporate meeting. And you can also rock in style in a peplum dress at an evening party! The choice of peplum dress is the real trick that helps you to shift into the fashion flow.
If you are going to sport a corporate look, then a pencil skin with a peplum top will look amazing. And if you are off to a party, choose fabrics like lace and satin for a gorgeous appearance. We will reveal some secrets that will inspire and guide you to get a defined idea on dressing up!
1. Peplum dress for work
Wear a solid colour peplum dress to work to look stunning. Pair it with pumps or heels. Wear a blazer of contrast colour to bring a twist on the look. Choose a solid colour of peplum dress for better placement of hues to set a corporate look. Choose neutral colours for a sober yet confident appearance.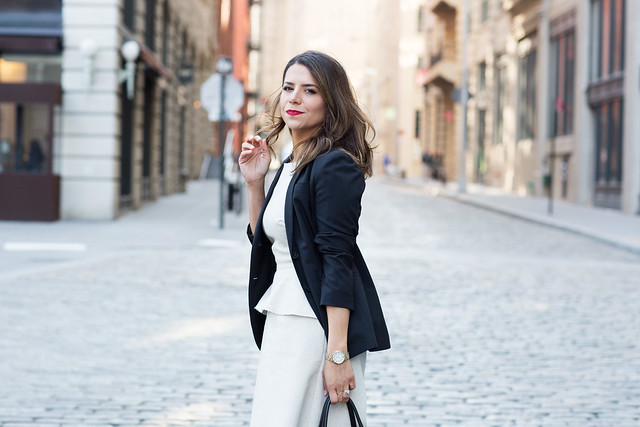 2. Peplum dress for party
The pattern of peplum dress is ideal for a party look. Choose an embroidered peplum dress for a party or wedding. You can also wear lace peplum tops with skirts. If you do not love embroidery or lace, we have another option. Pick metallic colours of fabrics to catch the eyes of the crowd, and you rock!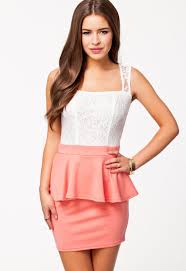 3. Peplum dress for vacation and casual dates
Peplum dress goes well with floral prints. The effortless beauty of the floral prints is undeniable. If you love florals, then go for it. You can wear it on a daytime party, occasions and even on a beach vacation. Choose a deep neckline when picking up a peplum dress for such purposes. It will make you look pretty and casual at the same time.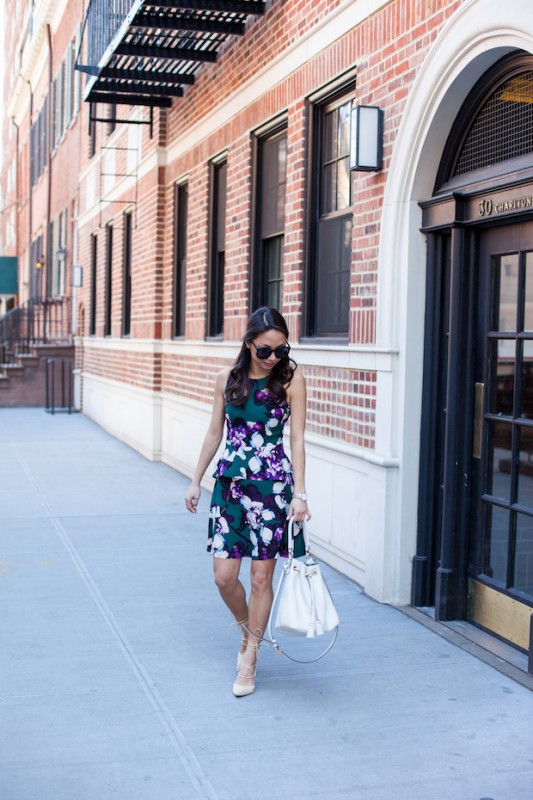 Peplum designs and differences
Nowadays, there are varieties of peplum designs. The length of the frills can be multiplied as per the choice of the dress designer. In the same way, the length of the frill can be short or medium. But if you are going for multiple frills, then short length frills look best.
Peplum dress for various body types
A peplum dress looks best if it suits the body type. But first of all, you must know the body type. It will help you to understand the way of choosing an ideal peplum dress.
Hourglass women can wear any kind of peplum dress. So, if you have a defined waistline with proportionate shoulders and hips, choose any peplum dress. Peplum looks great with heels. So never forget to pair them!
Women with rectangle body shape can avoid peplum with small frills. Their undefined waistline will not get any enhancement with such a dress. So, choose wide frills to grab the attention around the waistline.
If your abdomen has no definition at all, then choose peplum wisely. Choose a peplum dress that has a contrast-coloured frill or ruffles around the hipline. It will help to create a visible waistline even if you do not have one!
Triangle body shaped women can wear peplum dress with blazer or coat. It will enhance the shoulder area. In such a way, it will bring a balance to your entire look. Try to wear light coloured blazer with a dark colour peplum dress.
Inverted triangle body shaped women can do the opposite of the triangle body shaped women! It means they will have to enhance the lower part of the body to bring attention. Women with this body type can wear dark coloured peplum top with light coloured bottom. They can also wear two-toned peplum dress to accentuate the lower body area. Always choose light coloured heels to make the peplum more flattering.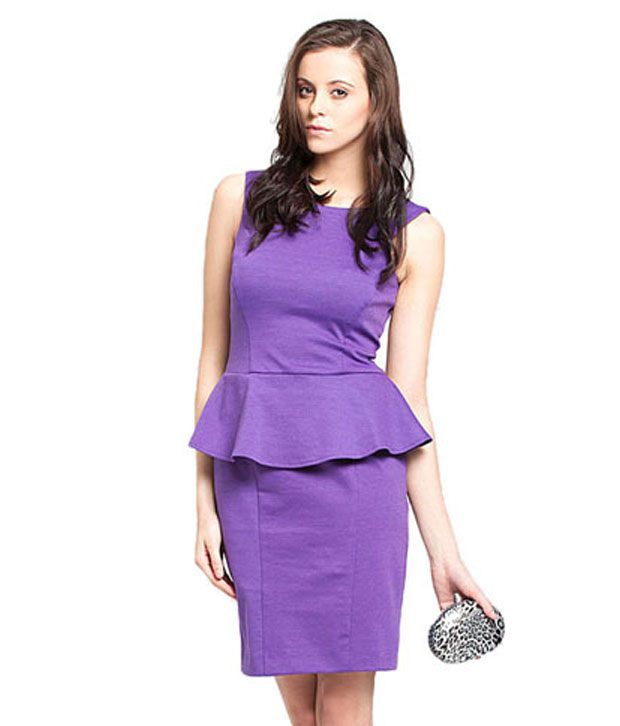 Types of ruffles in peplum dresses
The types of ruffles in peplum dresses play a significant role in creating an attractive appearance. An asymmetrical peplum is an excellent option for a curvy body. The ruffle line goes asymmetrically. So, it does not grab the attention of the waistline.
Pleated peplum is the most popular of all. It is suitable for any body type. It distracts the uneven waistline while creating an illusion of a perfect body! Anyone can go for this.
Flared peplum design flatters the waistline beautifully. The heavy ruffles intensify the appearance of the waist area. It is suitable for hourglass, inverted triangle and circle body types. Women with triangle body type might not look much attractive in it.
Gathered peplum looks good on the hourglass, triangle and inverted triangle figure. Women with an undefined waistline might not look appealing in this peplum design.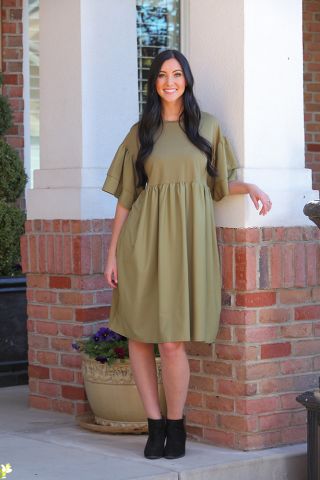 Final words
Hopefully the answer to 'what is a peplum dress?' clear to you. Be mindful while choosing a peplum dress. Try different colour combination to check the most flattering option for your body type. And always wear the peplum dress that flatters your natural beauty. We think that beauty comes with confidence. So, wear it with a confident mindset and rock in style!