How To Make DIY Orange Concealer/Colour Corrector
Have you ever wondered how actresses and celebs have such beautifully clear skin on camera while their real-life filterless photos are filled with blemishes, spots, and dark circles? Well, the simple answer to the question is brilliant makeup and we all know that. But do you know what enhances the blemish-free smooth look?
Back in trend for the past few years Orange Concealers or Color Correctors are the hidden powerful weapon that creates those porcelain skin finishes without making one look like a caked up doll. However, before stepping into the world of DIY makeup it is important to know what a colour corrector/orange concealer is?
Used under makeup foundation for smoothening dark circles, lines, and zits, an Orange Concealer works wonders by covering up the hyperpigmented and uneven surfaces. They create the perfect smooth and even base that gives the skin a very natural glow up. Orange concealer works very well in covering the bluish or blackish under-eye darkness.
We all know that purchasing an Orange Concealer or colour corrector is not very easy on the pocket. And in case you want to get an orange concealer from a high-end brand, it is bound to create a big dent in your fund for sure. What many do not know is that Color correctors can be created at home.
Some expert makeup bloggers have even vouched for the fact that the DIY orange concealer is far more effective than the high-end brands available. Most importantly you know very well what is going into your DIY product and you can adjust the shade exactly as you want.
Making DIY Orange Concealer/colour corrector at home
What you need:
Good quality hydrating under eye cream
A foundation that perfectly blends with your skin tone
A small scoop spoon
A small glass jar with a lid
Spatula
Orange tinted or peach lipstick
Steps to make the Orange Concealer/ Color Corrector
Add a scoop of Under Eye cream into the glass jar
Add one-fourth scoop of foundation to the eye cream and mix well using a spatula
Both liquid and powder form of foundation is usable. If needed add a pinch more of the foundation.
Add about a scoop of lipstick shaving into the cream and mix well
In case you need to change the orange tint, you can either add a bit more or a bit less orange lipstick.
To blend everything perfectly it is best to place the glass container on a hot towel while mixing. This helps the lipstick and the cream infuse with each other easily.
Once cooled, you can store the DIY Orange corrector for future use.

How to apply the Orange Concealer/colour corrector?
Using a Q tip apply a few dots under the eyes, chin, and other darker spots. With the help of a flat brush or fingertips lightly pat and blend into the skin to create an even finish.
Uses of Orange Concealer/ Color Corrector
Orange corrector primarily works very well as a concealer of dark circles and under-eye dark lines and spots. Additionally, it can also be used to hide Blemishes and zits.
If used correctly, Skin redness can also be reduced to create a lighter base tone for makeup application. Orange Concealer works wonder in minimizing and hiding bluish and yellowish-green discolourations caused due to bruising
Tips to remember while making your own DIY Orange Concealer / Color Corrector:
Contrary to popular belief, the perfect colour combination for Color corrector is orange or peach not nude or light brown
A colour corrector should always be very light in colour
Orange concealer works best when it is applied just after moisturizing the skin and before application of the foundation.
Never rub the colour corrector into the skin. Always use a fingertip or a flat brush to tap and blend the mixture into the skin.
Remember that concealer is not a foundation, so You only need a few tiny droplets of it.
Always combine orange concealer with a loose powder of the same shade as the skin to give a better result.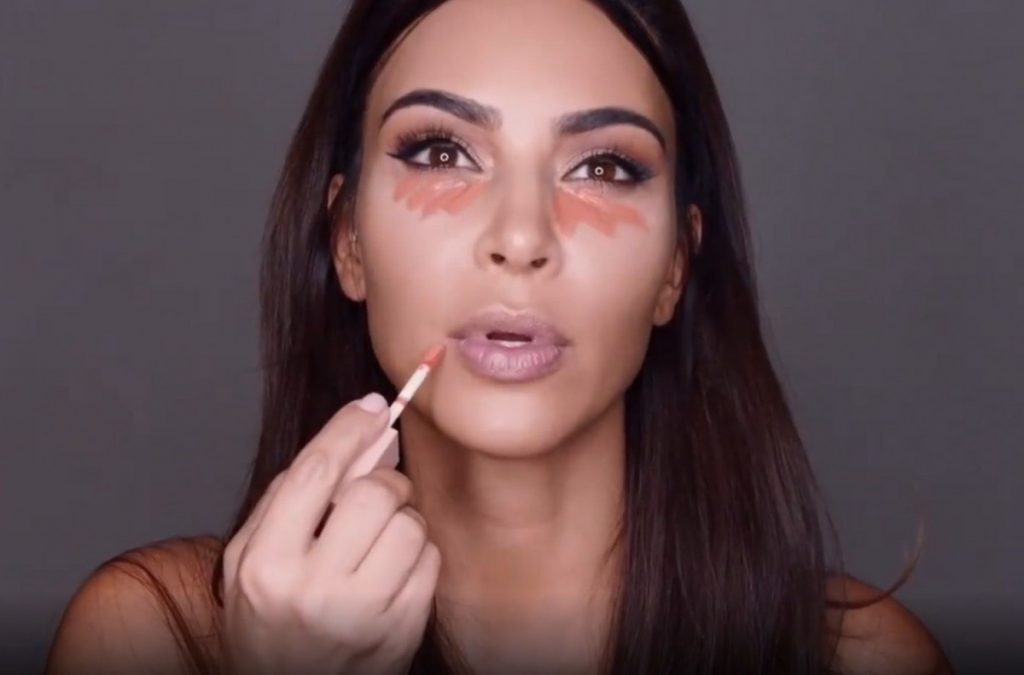 Colour correctors of other shades that can be used as a concealer
What may surprise many is that colour correctors can be made in different shades to use for various makeup applications. For eg:
Green Color corrector works wonder in hiding redness of the skin
Yellow Color Corrector works very well in covering up purple spots, birthmarks, and bruises completely.
Lavender Color Corrector though rarely used, can easily remove yellowish discolouration of the skin
DIY Orange Concealers / Color corrector is a very easy and perfect solution to hiding those dark circles and spots without needing to spend much on a brand name product. Additionally using under-eye cream as the base of the corrector helps in reducing eye puffiness and hydrating the under-eye region.
Also Read: Best Concealer For Indian Skin in India 2021