Top Engagement Dress Ideas for Bridegroom
Wedding bells are ringing and love is in the air. Every man wants to look his absolute best on special days. While the wedding outfit is sorted as most of the men go for traditional outfits, choosing an engagement dress can be a daunting task. Choosing among the several ideas of engagement dresses for bridegroom is such a task!
Are you dodging between the perfect traditional outfit and a western outfit? Are you exploring new options and wish to try something new? If yes then you are in the right place because we have the most fashionable ideas for you. Here are a few outfits that every bridegroom must consider to wear on the engagement day:
Different Engagement Dresses for Bridegroom
1. Sherwani
One can never go wrong with a Sherwani. For all the grooms who want to opt for the traditional ways, pick out a gorgeous Sherwani. Pair it with jootis and you can even add a turban if you want the royal look. Wear some chains or a stole to complete the overall look.
Sherwani is probably the most loved and popular outfits for engagement ceremonies. Choose vibrant colours that will go with the theme of the engagement. You can also colour coordinate with your bride to be.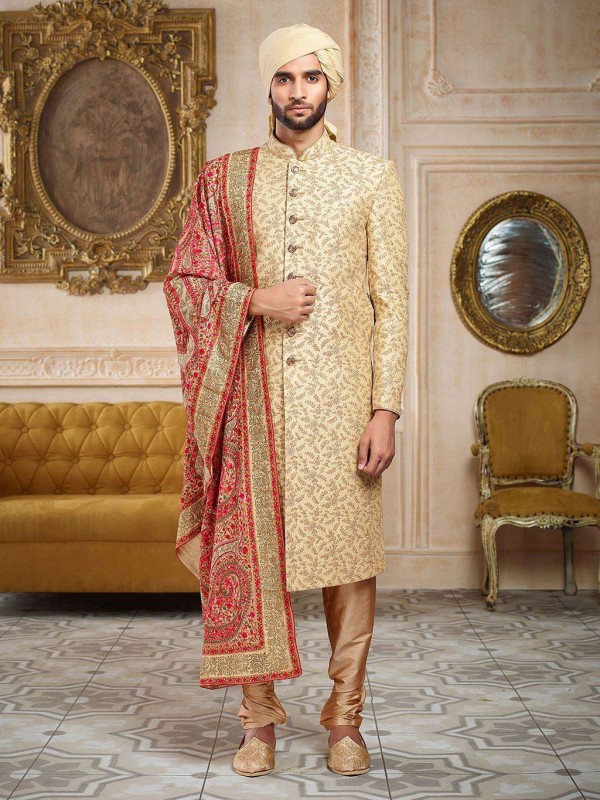 2. Suit up
Up next in the list of engagement dresses for bridegroom is an amazing suit. If you want a traditional outfit for your wedding day and something different for your engagement then opt for a suit. The combination of well-fitted pants, a shirt and a nice blazer can never go out of style. For bridegrooms who would like to keep it classic, a black suit will do the job for you. Dress up formally to put the ring on your lady and bring out your inner gentleman.
Pair the outfit with formal shoes to give the ultimate touch to your special day. While opting for a three-piece suit, ensure that the fitting is up to the mark because it can either make or break your entire look.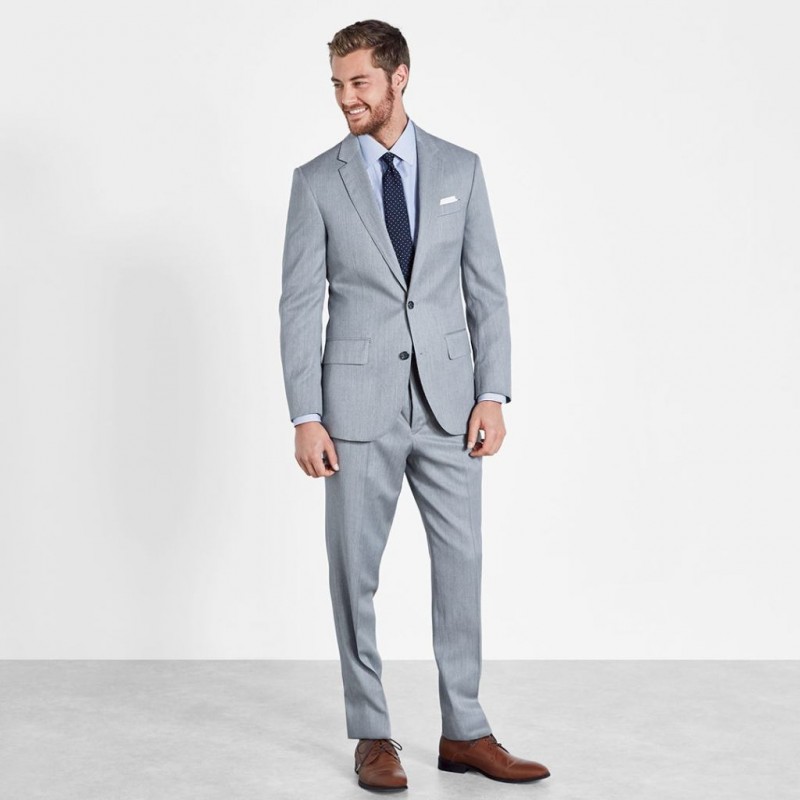 3. Achkan
If you are stuck between a sherwani and a kurta-pyjama then Achkan is the way to go. It is basically a kurta that is inspired by the Mughals and their era. Achkan gives you the royal look that you need on your engagement day. This attire is available in the most exotic of colours like deep green, navy blue and maroon.
Style it with churidar pyjamas and a decent looking pair of jootis. Plus, this outfit is both stunning and simple at the same time. Making it a great one among engagement dresses for bridegroom.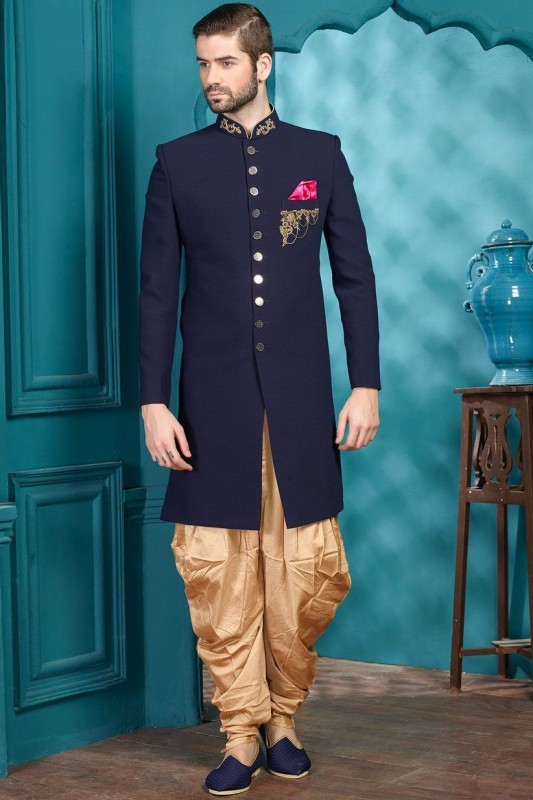 4. Jodhpuri Suit
Do you want something formal but the 3 piece tuxedo is not working for you? If this is the case then Jodhpuri suits are meant specially for you. Inspired by the rulers of Jodhpur, the outfit screams of royalty. Such suits have a bandh gala which gives them a touch of formal wear. Jodhpuri suits are the perfect blend of formal and traditional.
For bridegrooms who like to keep it classic, you can style this suit with a pair of jootis or even formal shoes, however, you like it. This outfit gives you the benefit of accessorizing so wear those chains and turban and get ready to enter the festivities.
5. Nehru Jacket
If comfort is a priority for you and especially if your wedding is taking place in the summer season then there is nothing better than a dhoti, Kurta and a Nehru jacket. This casual yet elegant outfit will win hearts for sure. Pick up a gorgeous Nehru jacket and it can be styled in so many ways.
Either you wear it with a pant and a shirt or with a Kurta and churidar, it looks stunning with everything. Bring out the fun and chill side of you with this jacket.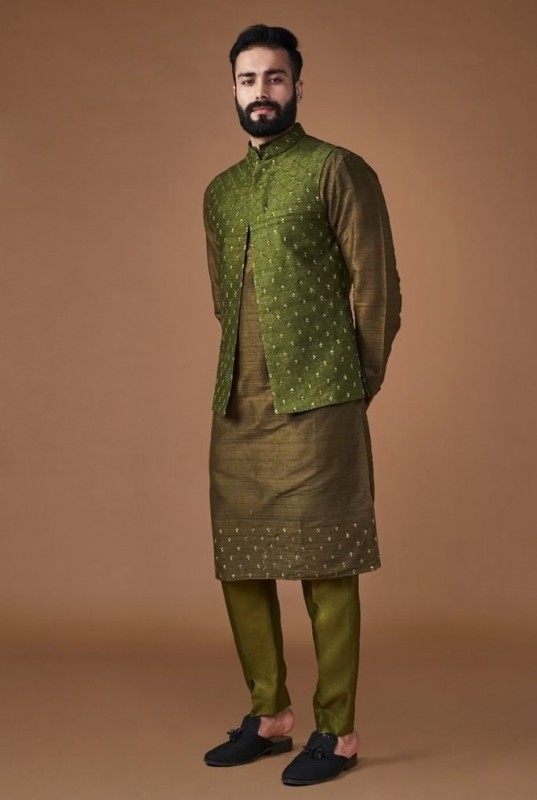 6. Kurta Pyjama
Kurta Pyjama is one of the most comfortable outfits. Not only does it look luxurious but also goes well with the engagement vibes. It is neither too extra nor too dull so it is an excellent blend for your special day. There are endless options when it comes to selecting a Kurta. You can choose one that suits your style and gives a royal look. For bridegroom who would like to experiment, you can opt for an asymmetrical Kurta to create a fun yet elegant outfit.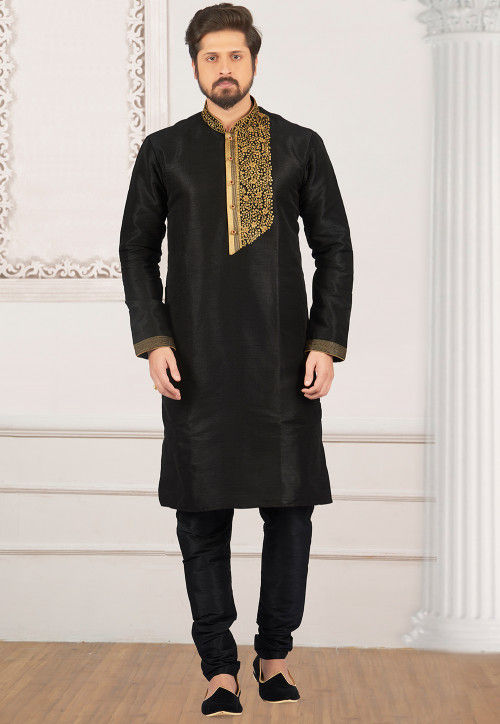 7. Ditch the normal
Gone are the times when grooms wore only solid colours and prints. It's the era of floral and sassy prints which look great in pictures and also looks beautiful on the boys. Be it Kurta, Sherwani or a Nehru jacket, you can opt for fun prints and even pastel colours. Accessorise with a pocket square, sandals, some cool shades and even jewellery.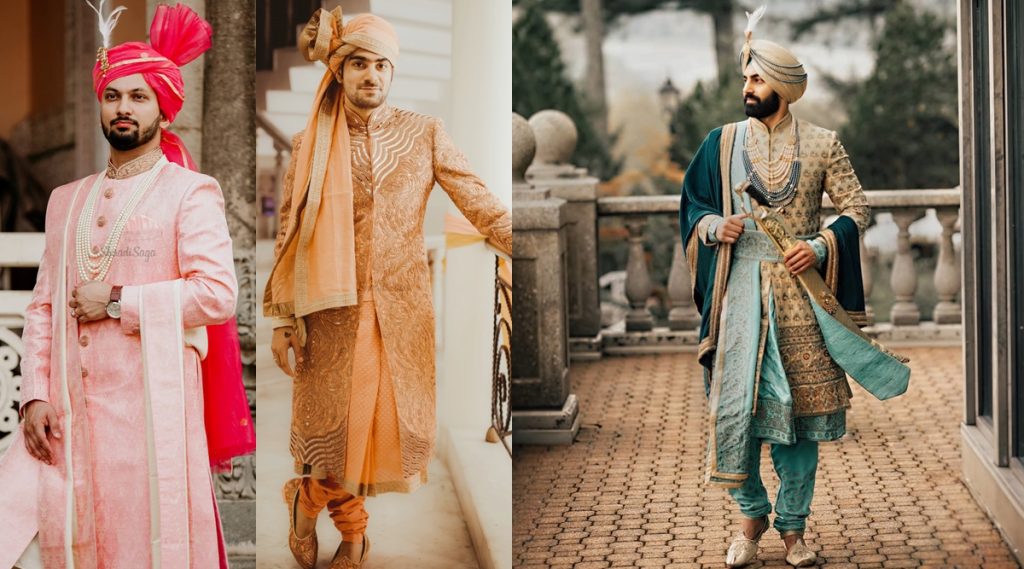 Final Words
These were some engagement outfit ideas for the bridegroom. Whatever you choose, assure that you can carry it well and have fun in it. Give it some time and see what suits you the best because you surely do not want to see pictures of an ugly outfit for the rest of your life.
Read More: