Best Glycolic Acid Facewashes in India: Benefits and Reviews
Ever heard of "Spotty Spice"?
Yes. That was the name by which Victoria Beckham was called because of her problem skin. Wouldn't believe it looking at her now, would you?
Or, would you believe that Brad Pitt has an acne problem?
Celebrities are not spared when it comes to skin problems. They are no different from us. But they did find the solution, and so can we.
Acne scars, hyperpigmentation, dark spots – all these can kill your looks, and only another person with this problem can understand it. People like us with problem skin are always on the lookout for that special something that can eliminate all skin problems. That one solution lies in that magical ingredient, glycolic acid.
What is Glycolic Acid?
Glycolic acid is a skin-safe acid. It is an alpha hydroxy acid (AHA) that penetrates the layers of the skin and moisturizes and rejuvenates it. It is a naturally occurring acid and has a slew of benefits for the skin. It is the holy grail in exfoliating the skin, and when used in face washes, it eliminates the outer dead skin cells to reveal bright, fresh skin.
In addition, a face wash with glycolic acid clears dirt and oil from the face, making it squeaky clean. Although this skin-friendly acid can be found in many face washes, we have here the best ones available in India.
Best Glycolic Acid Facewash in India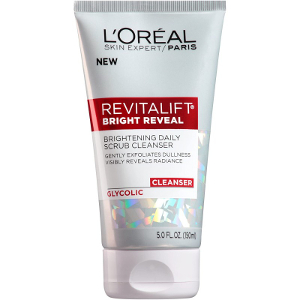 This is a cleanser that scrubs the skin gently and exfoliates it to remove the dullness and make it visibly radiant. The cleanser contains glycolic acid that revives a dull-looking skin, making it bright by improving the tone and making it smooth. It is also known to reduce fine lines. L'oreal Paris Revitalift Bright Reveal Cleanser contains micro-pearls to exfoliate the skin.
Key Benefits
Diminishes scars and fine lines
Reduces wrinkles
Exfoliates the skin
Check the cheapest price on Amazon
2.  BERKOWITS Sebum Watch Face Wash for Acne Scars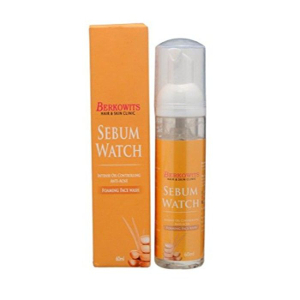 BERKOWITS is a well-known skin and hair clinic in India that offers solutions for skin and hair problems. They now have a special foaming face wash that fades away acne scars and controls the excess production of oil. With the oil controlled, the pores will not clog, thus eliminating the problem of acne. Also, this facewash eliminates pimples and the glycolic acid in it scrubs out blackheads. It also contains aloe vera and salicylic acid.
It is among the best glycolic face washes in India. Use it twice a day for best results.
Key Benefits
Good for acne-prone skin
Removes blackheads
Clears acne scars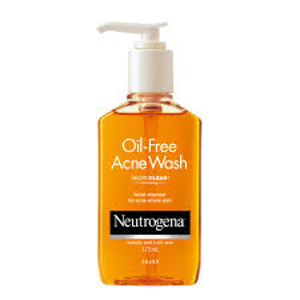 Among the best face washes in India, the Neutrogena glycolic acid face wash helps reduce acne and removes the top dead cell layer of the skin, bringing out the glow within you. It moisturizes dry skin and clears all impurities from the top layer of the skin, making it healthy and smooth. Use it once a day to wash off the accumulated dirt.
Key Benefits
Exfoliates the skin
Clears acne marks
Clears the top dead cell layer
Makes the skin glow
Affordable Price
Check the cheapest price on Amazon
4.  AHA Glow Glycolic Acid 10% Face Wash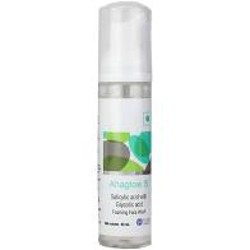 This is an advanced face wash that hydrates the skin and keeps it soft. It will cleanse the skin deeply and improve skin texture. The face wash is a blend of vitamin E, aloe vera and 80% purified water. It also contains 10% glycolic acid that clears scars and brightens the skin.
There is a subtle fragrance and this face wash maintains skin pH. It also reduces fine lines and wrinkles and rejuvenates the skin by clearing off the dead cells.
Key Benefits
Maintains the skin's pH balance
Hydrates the skin
Reduces fine lines and wrinkles
Clears dead cells from the top layer of the skin
Improves skin texture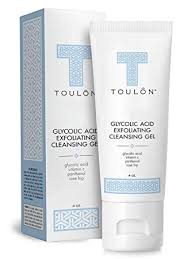 This is among the best glycolic acid facial cleansers containing AHAs with vitamin C and lactic acid. It is specially made for dry and sensitive skin. The face wash eliminates age spots and reduces acne. Both women and men can use it at any time of the year. The product is cruelty-free, paraben-free and completely organic. It also contains rosehip oil.
Key Benefits
Cruelty-free
Organic
Paraben-free
Eliminates age spots
Reduces acne and acne scars
Brightens the skin
Check the cheapest price on Amazon
Benefits of Glycolic Acid Face Wash
People who have acne scars and hyper-pigmentation search for glycolic acid products because of their effectiveness in reducing these skin problems and brightening it. Here are some of the benefits of using a glycolic acid
1. Suitable for all skin types
2. Rejuvenates and brightens up the skin
3. Moisturizes the skin and plumps it up
4. Helps fade away hyperpigmentation, acne scars and age spots
5. Removes the dead skin layer from the surface
6. Prevents blackheads and unclogs pores
7. Enhances cell turnover, giving the skin a natural glow
8. Facilitates production of collagen
9. Diminishes fine lines and wrinkles
Precautions to Take While Using a Glycolic Acid Face Wash
1. Do not rub the face wash too much on the skin, and do not leave it on for more than half a minute.
2. The best time to use it is before bedtime, as it can improve the skin's sensitivity to the sun.
3. Do not use it along with a Retinoid as it can lead to over-exfoliation, resulting in skin irritation and redness.
FAQs for Users
Is it safe to use glycolic acid face wash every day?
Yes. It is safe to use a glycolic acid face wash every day but only once a day before bedtime.
Why is glycolic acid good for your face?
Glycolic promotes cell turnover and brightens up the skin. It also clears acne scars and hyperpigmentation.
Does glycolic acid lighten skin?
Yes. Glycolic acid lightens and brightens the skin by eliminating age spots and acne. It also removes hyper-pigmentation and promotes cell turnover.
Which is better-retinol or glycolic acid? Can I use them together?
Retinol and glycolic acid should not be used together because of their different pH levels. Use them on alternate days and the glycolic acid face wash before bedtime.
Does glycolic acid remove acne scars?
Yes. Glycolic acid removes acne scars.
Should I moisturize the skin after using glycolic acid?
Glycolic acid exfoliates the skin by removing the dead cells from the surface of the skin. If you do not moisturize your face after using a glycolic acid face wash, your skin will dry. So, yes, it is essential to moisturize after using glycolic acid.
How long does it take for glycolic acid to fade dark spots?
It may take as much as four weeks for the dark spots to fade from the skin. So, if you are planning to use glycolic acid, then give it at least a month for the product to work its magic.
Good Skincare Routine
Most people do not have any idea of how to use the vast number of skincare products that they accumulate. A brand advertises the effectiveness of a product for a specific skin problem, and you go buy it! And there, on your dresser, are so many such products. Know that these products will not work on your skin unless you use them in the right order.
Here we give you the order of products to be used for day and night time skincare.
| | |
| --- | --- |
| Day Skin Care Routine | Night Skin Care Routine |
| Cleanser | Cleanser (Glycolic Acid) |
| Toner | Toner |
| | Serums |
| | Eye Creams |
| Spot Treatment | Spot Treatment |
| Moisturizer | Moisturizer |
| Face Oil | Retinol |
| | Face Oil |
Always wash your face and use a good makeup remover to cleanse your face of all makeup. A general rule of thumb is to apply the most watery product first and then the heavier ones and finally the sunscreen.
In Conclusion
Whether you need to memorize it or take a print out and pin it on the fridge or your dresser, use this table and use it every day to apply your skincare products. If you use them in the right order, you will find that they work for you.
Using a glycolic acid face wash at night will ensure that your pores are unclogged, and your skin can breathe. A glycolic acid face wash is a boon for people with skin problems. Start using it now and watch as your skin glows radiantly.
If you have any questions, drop a line in the comment section below and we'll help you as best as we can.
Also Read: